"Our deepest condolences and prayers go to the family of Trooper Monty R. Mitchell. Trooper Mitchell is a hero who worked tirelessly to keep the citizens of our commonwealth safe. He deserves our gratitude and recognition for answering the call to protect and serve. We will forever honor his service, sacrifice and memory."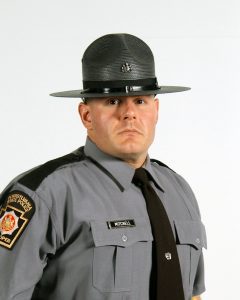 On February 8, 2021, at approximately 2100 hours, Trooper Monty R. Mitchell returned to station after advising Corporal Timothy C. Butler that he was not feeling well. While backing a marked unit into its stall, Trooper Mitchell suffered a medical episode. Members on station provided life saving measures while awaiting EMS response. EMS arrived at PSP DuBois and transported Trooper Mitchell to Penn Highlands DuBois for treatment. Attempts to revive Trooper Mitchell were unsuccessful and he was pronounced deceased at 2200 hours.
Trooper Mitchell enlisted in the Pennsylvania State Police in November 2007. He was assigned to the Patrol Section of Troop C, DuBois at the time of his death. He had also been assigned to Troop G, Huntingdon and Troop C, Ridgway during his career with the Department.
A graduate of the 126th cadet class, Trooper Mitchell was 45 years old.